Sell Custom Menus
Sell personalized menus that could be a chic for a reception table or bat mitzvah through your Pixopa Driven Online Store. Your customers can use an assortment of color and shapes from Design Xpress to design the right menus to fit their event. Help your customers to choose from a variety of popular menu design through Pixopa.
Dine-In Menus
Sell Dine-In Menus through Pixopa's Web Store to restaurant owners as it's a necessity for every restaurant. Help your customers to use all their creativity while designing their menu by incorporating features like double-sided coloring, lamination and unique folds – all this possible using nothing else but Design Xpress from Pixopa. Whether it is a full colored menu with images of food or a folded menu with multiple panels with information about discounts, upcoming events, coupons, sports schedule etc, your customers can cover it all through the user-friendly tools of Pixopa.
Pocket Menus
Sell custom pocket menus to restaurants, salons, spa, home and auto repair services through Pixopa Web Store. Pocket menu ideas often take advantage of the medium's convenient size. Use the abundant designing possibilities that Pixopa provides to offer these personalized pocket menus to benefit any business which can offer these versatile prints.Help your customers to design their own pocket menus using exclusive design tools from Pixopa.
Take-Out Menus
Sell take-out menus as your product through Pixopa's online store for your restaurant-owning customers. Your customers can now design their own custom take-out menu with images depicting the restaurant ambience and favorite dishes using Pixopa. They can now use the text tools to include patron suggestions to make it more special.
How it Works?
Step 1 – Data Import and Setup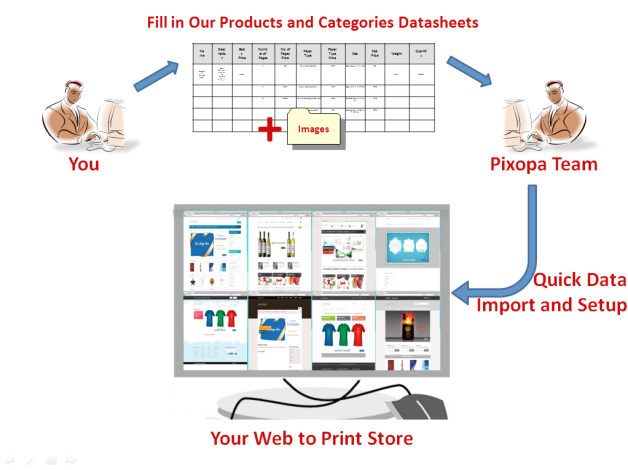 Step 2 – Create Layout and Templates of Menus using Pixopa's Revolutionary Online Design Studio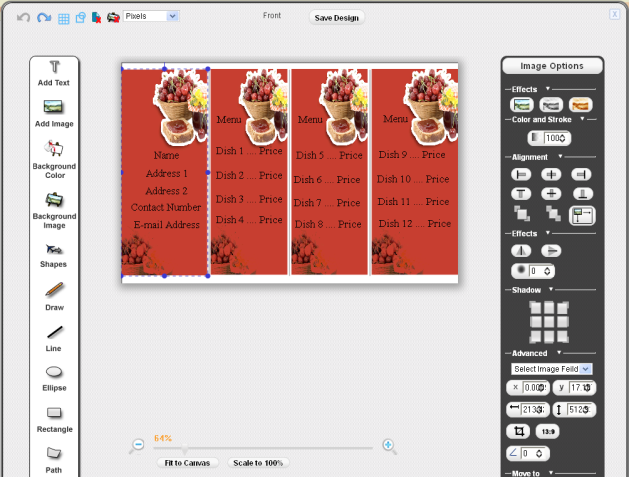 Step 3 – Start Selling Custom Printed Menus Online in your Pixopa Web-to-Print Powered Ecommerce Store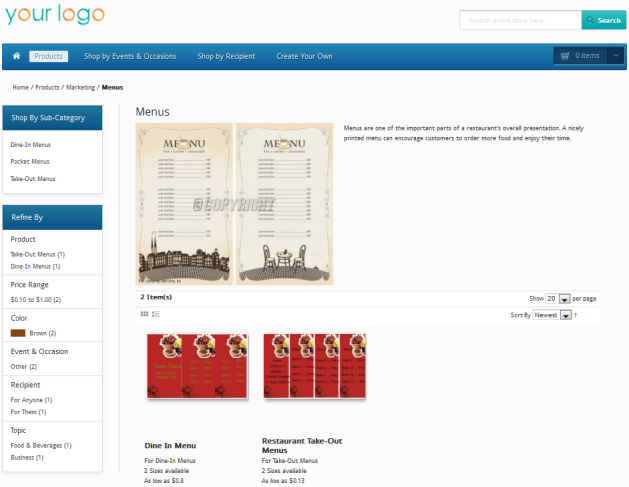 Live Demo
To view Live Demo of Menus, Click Here