HOSTED ECOMMERCE STOREFRONTS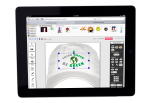 Edge miles ahead of competitors in Tablet and Mobile Commerce arena with cutting-edge HTML5 based Online Design Studio. Your customers can easily personalize products on the go and on PCs. Learn More

Exquisite Front-end Themes
User Interface plays a vital role in bringing high volume traffic and increase of conversion rate. Our Exquisite themes personify User Interface and Experience.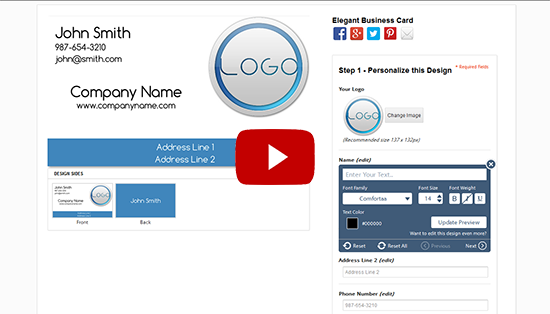 Form Based Product Personalization
As a compelling and faster alternative to the Design Tool, customers can easily personalize design templates by simply entering their information in a form, see the dynamic preview and skip the Design Tool.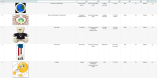 Manage and deploy thousands of templates with absolute ease. With categorization, captivate customers in various ways.
Learn More

Built-in Google Fonts
With 500+ built-in Google Fonts, enthrall customers with ability to include out-of-the-world typography in personalized designs.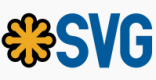 Open Source & Open Standards
Pixopa is built on renowned Open Source framework and tools. This gives a solid foundation and scalability along with security and performance.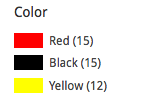 Powerful Faceted Navigation
Display faceted-navigation filters so that customers can quickly narrow down their design options, refine to what they're looking for, and complete their purchases. Refine Facets include price, color, size, topic, occasion and recipient.

Smart Search Capabilites
Customers can get overwhelmed with abundance of options and Smart Search System finds the products they're looking for faster. Features include Auto-Suggest Keywords and "Did you mean" search result suggestions etc.

Quick Data Import and Setup
Get your Ecommerce Store from inception to realization in no time. Time is of critical essence for business and our advanced import module gets your online store open for business in 1-3 business days.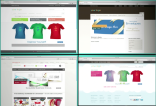 Multiple Storefronts
Run multiple, independent websites and customize your stores for each brand and its customer base. Stores can be managed using the same Backend Admin interface.

SEO
Solid SEO foundation is imperative for any online business to thrive. Built-in features include SEO-friendly URLs, meta keywords / description / titles and auto-generated site map.
Newsletters
Manage newsletter subscribers and build brand affinity by scheduling newsletter blasts in advance.

CMS
Revise homepage content and add new content pages easily with full control and without any developer dependency.

Blog
Built-in Blog not only provides your regular customers with up-to-date information but brings additional visitors to your site, builds relevant SEO-friendly text links, and serves as assistance in building sales strategy.

Promotions / Coupons / Tiered Pricing
Create promotions and coupons to reward customers and foster brand loyalty. Control tiered pricing and promote high quantity product sales.

Integration with Facebook, Instagram, Flickr and Picasa
Print is good and personalized print is better. Customers can drag and drop their favorite and treasured images from Facebook, Instagram, Flickr and Picasa into their product designs.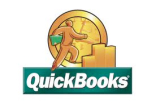 Quickbooks Integration
Dramatically improve your business efficiency with QuickBooks integration. Save effort of manual transfer to QuickBooks and cut down your back-office accounting work to a few clicks.

SugarCRM Integration
With SugarCRM Integration, automate sales process from lead generation to conversion while managing sales opportunities.
Detailed Ecommerce Features
Catalog Management
Handles all complex products with any types of variations (e.g. size, color, qty etc.) and pricing
Create different price points for different customer groups, such as wholesalers and retailers
Unlimited product attributes
Attribute sets for quick product creation of different item types
Inventory management with backordered items, minimum and maximum quantities
Batch updates to products in admin panel
Automatic image resizing and watermarking
Advanced pricing rules and support for special prices
Search results rewrites and redirects
Moderated product tags and reviews
Customer personalized products – ability to upload images and text from product page with dynamic preview
Customer sorting – define attributes for customer sorting on category (price, color, event, recipient, topic, industry, brand, etc.)
RSS feed for low inventory alerts
Checkout, Payment and Shipping
One-page checkout
Guest checkout and checkout with account to use address book
Shipping to multiple addresses in one order
Option for account creation at beginning of checkout
SSL security support for orders on both front-end and back-end
Saved shopping cart
Accept gift messages per order and per item
Shopping cart with tax and shipping estimates
Saved credit card method for offline payments
Configurable to authorize and charge, or authorize only and charge on creation of invoices
Integration with multiple PayPal gateways
Integration with Payment Gateways – Authorize.net, SagePay, SecurePay, WorldPay, Paypal Payflow Pro, Skrill, Cielo, Ipaymu, PayDollar, AliPay, PayU
Accept checks/money orders
Accept purchase orders
Offer Bill Me Later as a payment option
Shipping integration with label printing - view, edit, print labels for all major carriers
Integrated for real-time shipping rates from:-- UPS, UPS XML (account rates), FedEx (account rates), USPS and DHL
Ability to specify allowed destination countries per method
Flat rate shipping per order or item
Free shipping
Table rates for weight, sub-total, destination and number of items
On-site order tracking from customer accounts
Catalog Browsing
Layered / faceted navigation for filtering of products or design templates in categories and search results
Filter design templates by price, product, color, industry, recipient, topic
Static block tool to create category landing pages
Configurable search with auto-suggested terms
Breadcrumbs
Ability to assign designs within category and product level (unique design per product/category)
Recently viewed products
Popular search terms cloud
Product listing in grid or list format Product Browsing
Multiple images per product
Product image zoom-in capability
Related products and upsell
Stock availability
Multi-tier pricing upsell
Product option selection
Add to wish list
Send to a friend with email
Share on Facebook, Twitter and other social platforms
Marketing, Promotions and Conversion Tools
Catalog promotional pricing with the ability to restrict to stores, categories or products
Flexible coupons (pricing rules) with ability to restrict to stores, customer groups, time period, products, and categories
Generate a set of unique coupon codes for each promotion and export the list of codes for offline distribution, email, newsletters and more. Easily manage and monitor coupon usage and generate detailed reports
Multi-tier pricing for quantity discounts
Minimum Advertised Price (MAP)
Landing page for categories
Customer groups
Recently viewed products
New items promotional tool
Persistent shopping cart
Free shipping options
Polls
Newsletter management
Send to a friend for all visitors or registered users only
Send wish lists by email
Customer Accounts
Account dashboard
Address book with unlimited addresses
Wish list with ability to add comments
Order status and history
Re-orders from account
Save Designs capability
Uploaded images saved for logged in users
Recently ordered items
Default billing and shipping addresses
Email or send RSS feed of wish list
Newsletter subscription management
Product reviews submitted
Product tags submitted
Contact Us form
Create and edit orders from the admin panel
Feature-rich customer accounts
Order history with status updates
Order tracking from account
Password reset email from front-end and admin panel
Order and account update emails
Customizable transactional emails
Mobile Optimized Storefront
Storefronts are optimized for mobile devices so customers can shop even when they're on the go. This mobile interface uses HTML5 technology and supports iPhone, Android and Mobile Opera browsers. It includes out-of-the-box features such as:
-- Device-specific media capabilities for audio and video
-- User-friendly search and results display
-- Clean display of product detail pages
-- Pinch, multi-touch and scaling images
-- Easy swipe between product images
-- Zoom capabilities
Responsive Storefront Themes
Responsive Storefront Themes are optimized for any device
Can be easily customized for a fast time to market
Includes all major flows, product types, and features
Reduces long-term maintenance costs and eases site updates
Offers SEO benefits by using Google's preferred approach to optimizing mobile sites
Order Management
View, edit, create and fulfill orders from the admin panel
Fulfill with optional Dropship capability
Create one or multiple invoices, shipments and credit memos per order to allow for split fulfillment
Print invoices, packing slips and shipping labels
Call center (phone) order creation - provides transparent control for administrators and front-end enhancements for customers during the shopping process. Changing product configurations, for all types of products, can be done by the call center sale representative on the admin side as well as by the customer throughout the shopping process. Custom product choices and configurations can be changed directly during order creation, in the wish list and the shopping cart
Includes the ability to create new customers, or select existing customers and view their shopping cart, wish list, last ordered items, and compared products lists, as well as select addresses, give discounts and assign custom prices
Assisted Shopping - customer service representatives and other admin users are able to manage products and coupons in customers' shopping carts and wish lists through the administrator panel
Customized Order Status - tracking an order is easier than ever with customizable order statuses easily assigned to order states. A predefined list of order states (ex. new, processing, payment review, complete) represents the order processing workflow. An order status is assigned as a sub-category of the order state (ex. cancelled, complete, decline)
Create re-orders for customers from the administration panel
Email notifications of orders
RSS feed of new orders
Search Engine Optimization
100% search engine friendly
Google Site Map
Search engine friendly URL's
URL rewrites give full control of URL's
Meta-information for products, categories and content pages
Auto-generated site map for display on site
Auto-generated popular search terms page
Google Content API for shopping Site Management
Control multiple websites and stores from one Administration Panel with the ability to share as much or as little information as needed
Administration permission system roles and users
Fully 100% customizable design using templates
Support for multiple languages and currencies. Web Services API for easy integration between Pixopa and third-party applications
Batch import and export of catalog and customer information
Content Management System for informational and landing pages
Tax rates per location, product type or customer group (i.e. wholesale vs. retailer)
CAPTCHA functionality to help prevent automated software from attempting fake logins. This auto-generated test ensures that the login is being attempted by a person and can be enabled in both the admin and customer login areas
International Support
Support for localization, multiple currencies and tax rates
-- Includes support for WEEE/DEEE in EU
Support for accented characters and right to left text
Configurable list of allowed countries for:
-- Site registration
-- Shipping destination addresses with ability to specify per shipping method
-- Billing addresses with ability to specify per payment method
European Union VAT-ID validation facilitates the tax collection process by automatically applying the correct tax rules according to VAT customer groups
EU cookie notification simplifies the EU Privacy and Electronic Communications Directive compliance process by displaying an opt-in message at the top of the storefront
Analytics and Reporting
Integrated with Google Analytics
Admin dashboard for report overview
Sales report
Tax report
Abandoned shopping cart report
Best viewed products report
Best purchased products report
Low stock report
Search terms report
Product reviews report
Tags report
Coupon usage report
Total sales invoiced
Total sales refunded
Content Management System
Pixopa's CMS uses a WYSIWYG editor with support for rich content. Build complex content pages, create multiple versions of a page, restrict publishing privileges and create menus. Easily add CMS pages to the navigation menu and create, copy or delete different CMS hierarchy trees for each website and store view individually or en masse.
Solr Search
An alternative to the standard search, Solr search provides merchants with design templates-search options and enhancements to the speed, quality and relevancy of search results provided to customers. Performance and search quality are improved with layered navigation and features like spelling/synonyms/stop words and weighted attributes.
Strong Data Encryption, Hashing and Key Management
Strong data encryption based on AES-256 and strong hashing based on SHA-256. Database keys are easily managed and updated.
Dropship Features
Dropship capability gives you the power to sell products from multiple vendors and handle inventory and order fulfillment with little effort. Dropship module streamlines communication between online stores and dropshippers. Create shipping labels, track orders and shipments handled by your vendors or dropship company in a seamless automated process.
Multiple Shipping Origins per Order
Different Vendors for Product per Website
Pre-generated Order Shipments per Vendor
Vendor Control Panel Interface
Automatic Order Notifications Sent to Vendors
Downloadable PDF Packing Slips
Print PDF and Thermal (EPL) Shipping Labels (FedEx, UPS, USPS)
Packing Slips and Shipping Labels as Attachments to Vendor Notification Emails
Vendor Comments Sent to Store Owner
Automatic Customer Shipment Notifications
Polling Carrier Tracking API for Pickup (FedEx)
PDF Vendor Statements, downloadable/sent by email
Manage Vendor Stock Levels and Vendor Specific SKUs
Split Products in Shopping Cart by Vendor
Allow Different Shipping Method per Vendor Product Group
Export new orders for vendors
Send files by email, upload/download by FTP or import/export through textarea online
Multiple import sources/export destinations per vendor
Save history log for all/recent imports/exports
PO and Shipment IDs based on parent record for ease of identifying (Order #100000123, PO #10000123-12, Shipment #10000123-12-2)
Create manually or auto-generate vendor POs
Separate PO PDF (including vendor prices) and Shipment Packing slips
Partial item shipments from vendor interface
Auto-invoicing only shipped items
Generate vendor payouts manually or automatically
Track payouts in vendor statements and in admin interface
Vendor Self-Registration with Store Admin Approval
HOW DOES THE PROCESS WORK?