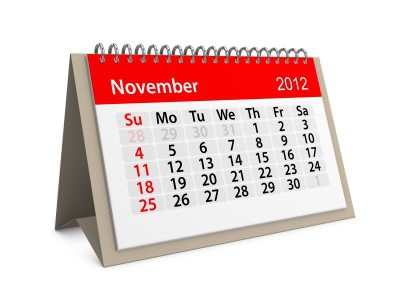 Sell Custom Calendars
Calendars have always been one of the great gifting ideas whether it is for corporate or as souvenirs. Sell calendars through your Pixopa-powered Online Store to your customers to aid their branding efforts and business communication. Allow your customers to turn photos into calendars that will remind them of their loved ones every day. Create plethora of designs and styles to choose from so that your customers can create their own monthly, yearly, 15-month or 18-month calendar.
Pocket Calendars
Offer a fabulous opportunity to your customers to keep their business in limelight by selling personalized pocket calendars to them. Custom printed pocket calendars carry their imprint year round when handed out. They can now use custom monthly pocket calendars as Elegant Holiday Gifts by designing in Pixopa. Dazzle your customers with the numerous designing possibilities that Pixopa provides for pocket calendars to make great gifts, suitable for office staff, teachers and health care professionals. Personalized pocket calendar is a great way to teach students how to stay organized as well. A custom pocket calendar provides a convenient way to take notes and jot down appointments and meeting times.
Table Calendars
Sell custom desk calendars through your Pixopa Web Store for designing gifts and souvenirs. Custom table calendars are great marketing tools since people use calendars all year round. Your customers can now use the right combination of text and images to enchant the viewer and it is possible only with Pixopa's Design Xpress. Since custom calendars will be viewed for 365 days at home or office they make effective marketing tools.
Wall Calendars
Ensure that your customer's brand stays in front of their audience 365 days a year by offering them personalized wall calendars through Pixopa's W2P Storefront. Your customers can now design a promotional personalized wall calendar with their company name and logo in Pixopa. Along with this, benefit is that these items are very much affordable.
How it Works?
Step 1 – Quick Data Import and Setup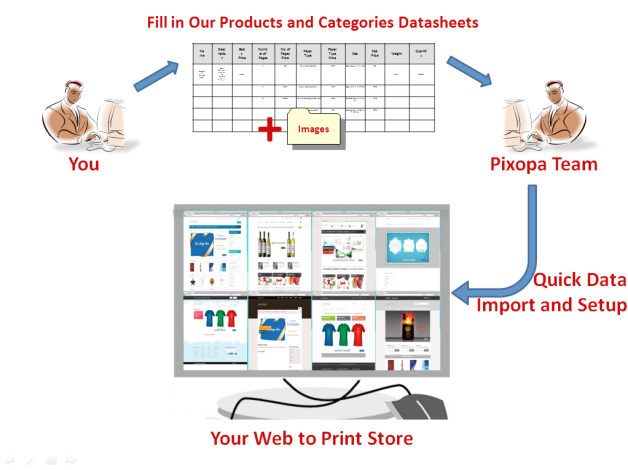 Step 2 – Create Layout and Templates of Calendars using Pixopa's Revolutionary Online Design Studio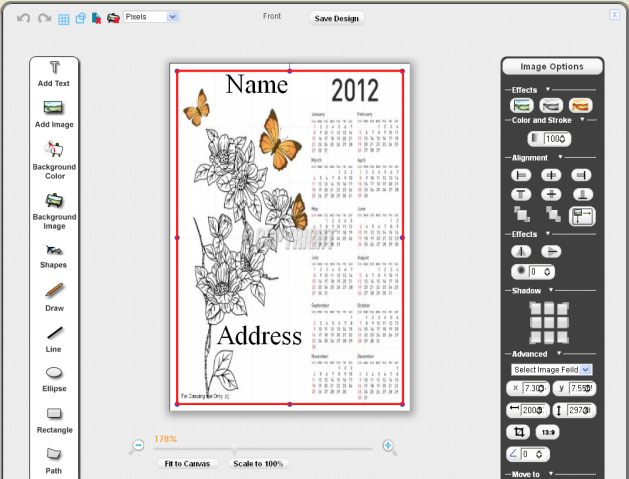 Step 3 – Start Selling Custom Printed Calendars Online in your Pixopa Web-to-Print Powered Ecommerce Store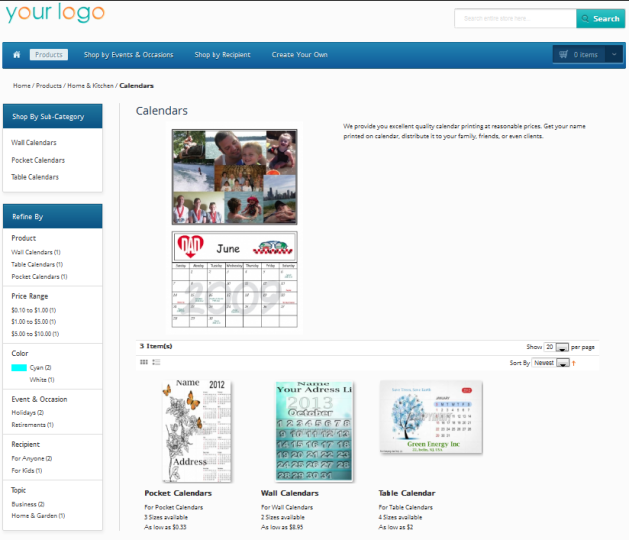 Live Demo
To view Live Demo of Calendars, Click Here