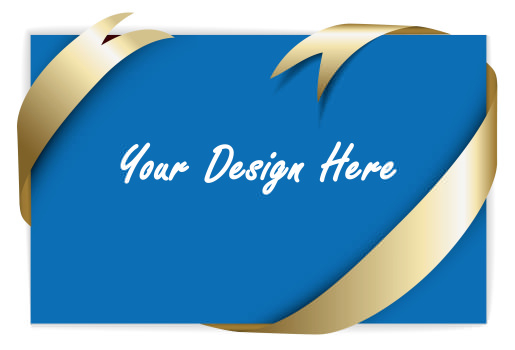 Sell Custom Envelopes
Sell envelopes to your customers for business, celebrations or just for fun by using Pixopa powered Web-to-Print Ecommerce. Give them a fantastic design experience to create their own envelope by offering a wide collection of shapes and sizes to craft the envelope of their choice through Pixopa's Design Xpress. They can also DIY their own envelope using the amazing designing tools of Pixopa.
Booklet Envelopes
Boost new confidence to your client's branding collection with Pixopa. Give your customers the ultimate creation experience by designing personalized booklet envelopes using Pixopa. Help your customers to design them with a flap on the longer side of the envelope so that booklet envelopes offer a variety of items that can be mailed by inserting in it.
Open End Envelopes
Enhance the brand identity of your corporate clients by offering them open end envelopes through your Pixopa Web Store. Create custom open end envelopes using limitless possibilities of Pixopa. They are ideal for sending reports, plans, certificates, photos, catalogs and many more. Your customers can use them as your gift card envelopes or keep post cards, pictures, bills etc.
Pointed Flap Envelopes
Sell pointed flap envelopes in your Pixopa Storefront so that your customers can match the design with the invitation. Your customers can now use an array of designing possibilities in Pixopa's Design Xpress to produce an elegant pointed flap enclosure. They can now make a lovely presentation for wedding invitations and other special occasions.
Regular Envelopes
Help your customers improve their corporate image by selling them regular envelopes through your Pixopa B2B2C Store. Your customers can show professionalism by designing personalized custom envelopes using Design Xpress from Pixopa. They can now insert a catchy sentence to project their advertising on their custom regular envelope using Pixopa text tools thus helping to provide an inviting impression for the reader.
Square Flap Envelopes
Now start trading in custom square flap envelopes for invitations, announcements, photos, and greeting cards through Pixopa's Web Store. Your customers can now create their very own personalized square flap envelopes using a wide array of colors and textures using Pixopa. Design Xpress will now help them pair their design with a choice of colors to create exclusive personalized square flap envelopes.
Window Envelopes
Help your customers to make their window envelopes stand out from the rest of the crowd by offering them personalized window envelope designed in Pixopa. Personalized window envelopes can be used for sending paychecks, documents, catalogs with unusual layouts. With custom window envelopes, they can preprint the recipient's name and address on the order form and can tease the recipient with a sneak peak of something inside the envelope by using custom shapes from the shape tools of Pixopa's Design Xpress. Your customers can now use distinctive colors for DIY designing using Design Xpress from Pixopa to make their window envelope stand out to potential customers.
How it Works?
Step 1 – Quick Data Import and Setup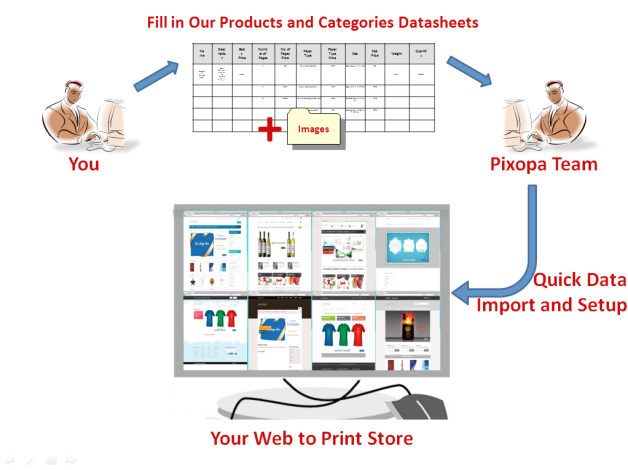 Step 2 – Create Layout and Templates of Envelopes using Pixopa's Revolutionary Online Design Studio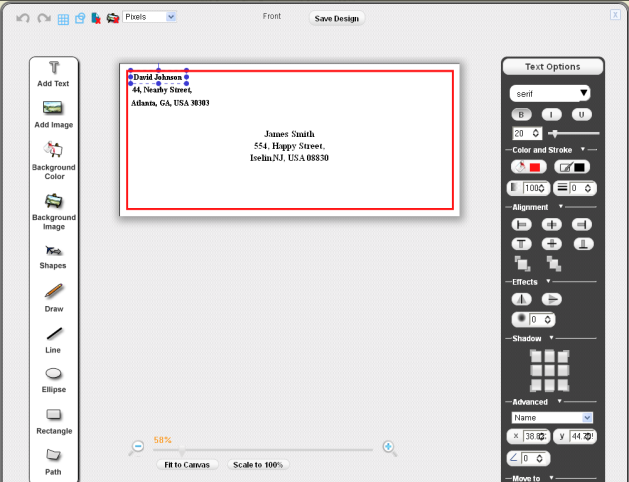 Step 3 – Start Selling Custom Printed Envelopes Online in your Pixopa Web-to-Print Powered Ecommerce Store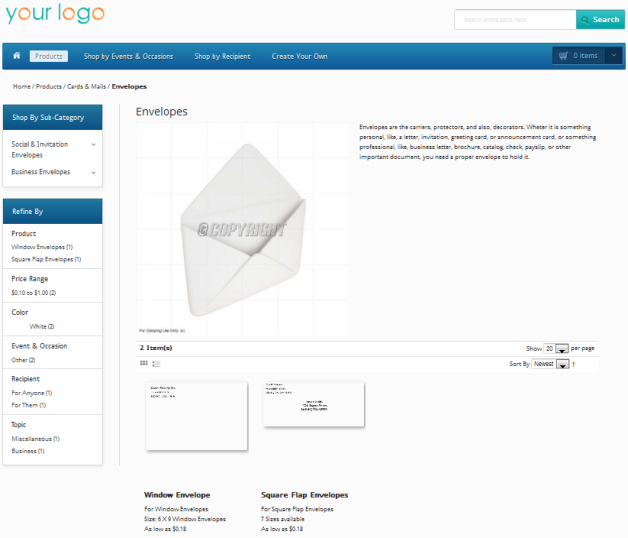 Live Demo
To view Live Demo of Envelopes, Click Here