93% of online experiences begin with a search engine
Google accounts for over 76% of all global desktop search traffic, followed by Bing at 8%, Baidu at 7.5% and Yahoo at 7%. (Source: NetMarketShare, 2016)
Google accounts for over 94% of all mobile/tablet search traffic globally, followed by Yahoo at 3% and Bing at 1%. (Source: NetMarketShare, 2016)
70% of the links that users click on are organic
70-80% of users ignore the paid ads, focusing on the organic results
75% of users never scroll past the first page of search results
Search is the #1 driver of traffic to content sites, beating social media by more than 300%
SEO leads have a 14.6% close rate, while outbound leads (such as direct mail or print advertising) have a 1.7% close rate
For Google, 18% of organic clicks go to the #1 position, 10% of organic clicks go to the #2 position and 7% of organic clicks go to the #3 position
72% of consumers who did a local search visited a store within five miles. (Source: WordStream, 2016)
When using organic SEO techniques and a PPC campaign together, you can expect to receive 25% more clicks and 27% more profits versus using just one or the other.
67% of mobile users will leave a website if they become frustrated with the site's navigation, and 72% will exit out if the site loads too slowly (via Search Engine Watch)
According to Andrey Lipattsev, Search Quality Senior Strategist at Google, high quality content and link building are the two most important signals used by Google to rank your website for search. (Source: Search Engine Watch, 2016)
So what is SEO and why is it important for your business?
Search Engine Optimization (SEO) is about ensuring that your website is found and ranked higher than your online competitors on different search engines. SEO is not a one-time activity. It is an ongoing process of improving the quality and driving online traffic to your website that can be achieved by applying a series of proven SEO techniques to ensure that your website achieves highest rankings with major search engines when searched through specific keywords or phrases.
The goal of implementing SEO is not just all about knowing how many visitors your website gets. It is all about the quality of visitors that access your website and convert them into sale at a higher rate.
Implement the right SEO strategy and it starts with choosing us
A good SEO strategy is about identifying opportunities for improvement and plan a comprehensive result-oriented approach. Consider SEO as the star player of your team.
At Pixopa, we follow some unique SEO techniques to bring quality visitors to your website:
Define your Target Audience and know their behavior
This is all about knowing their age, sex, geographical location, shopping patterns and most importantly their pain areas. Once this is determined, we pitch in with the right content and targeted keywords.
Keyword Research
This is determined on the basis of the kind of products that you would be selling and their target audience.
Auditing your Website Framework
This helps in figuring the problems in your current search process which will help in attracting and engaging more quality users to your website. This will help in determining the gaps and opportunities available for your website promotion.
Define the competition and learning from them
This is not about the competition with your local vendor who provides similar products or has a competitive pricing. This is about the ones who are having a better or similar search results through the same keyword search. It is all about figuring out what better methodologies do they apply and how can we beat them.
Implementing Latent Semantic Indexing (LSI)
One of the latest methods that are considered by Google for ranking webpages, LSI is an indexing and retrieval technique that mathematically identifies patterns in any given phrase of text.
We have affordable plans to cater every budget and requirement. Take a look at our different SEO packages here to kick-start your website promotion.
If you are not well-versed with SEO, the answer is no. If SEO was so easy, everyone would have had their website on the first page of Google. Isn't it?
SEO isn't something that you can just learn through tutorials and just "try" it. Sure, it may have some positive impact on your website but eventually it would cause more harm than good long term. You can certainly add good content, have search friendly site URLs and have a sitemap.xml file but search engines give partial weightage to this. There are a lot of techniques involved to really thrive in SEO and it's better to leave that to SEO experts.
Search Algorithms keep changing constantly and techniques and content have to be in sync with the this to be on top consistently. SEO requires professional implementation skills and hardcore knowledge. We at Pixopa have a lot of knowledge implementing the right SEO techniques and best practices along with a familiarity of CMS systems, resolving meta tags, rich snippets, keyword research and many more.
CUSTOM ANALYTICS PLATFORM
We provide our SEO customers with an amazing custom analytics platform that gives a consolidated report and analytics of your SEO, Social Media and PPC performance. It has a stunning and comprehensive dashboard and combines all search engines performance in one place. This way you do not have to visit individual search engines analytics backends like Google Analytics.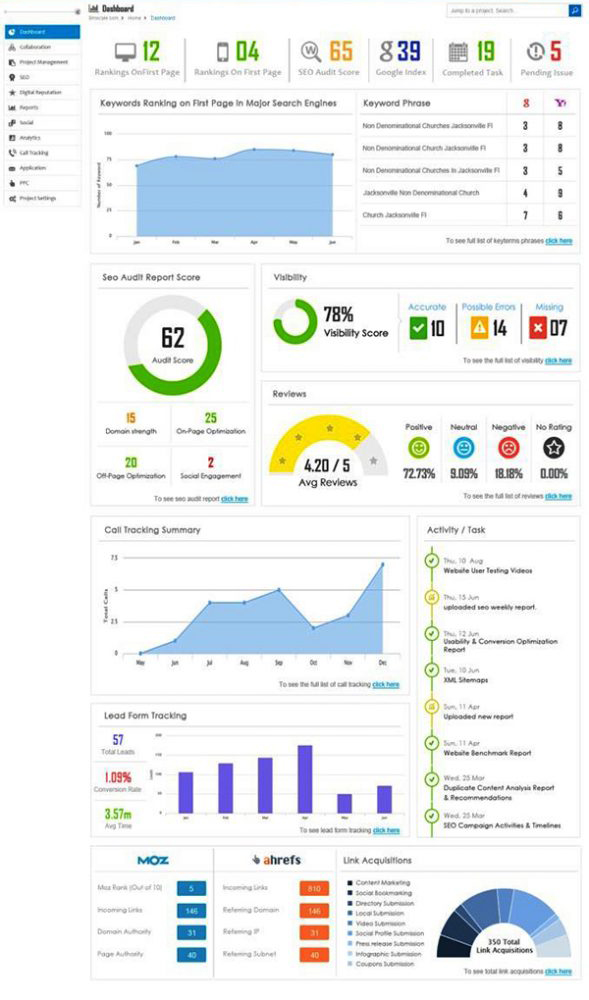 Usability & Conversion Optimization

We will generate a report featuring the most important usability & conversion optimization factors. Includes suggestions to make the site more usable and conversion friendly thus increasing your business' online leads.

HeatMap

We will generate a heatmap of your home page displaying which parts of your page users visit and click frequently. You get to know what's hot and what's not, so you can make changes accordingly to increase conversions.

ScrollMap

The scrollmap shows how far down the page people are scrolling and helps determine where visitors abandon the page. Now you'll know exactly where to add elements to hold a visitor's interest longer.

Overlay Report

With the overlay report, you will be able to see the number of clicks on each element of your web page.

Confetti

With confetti, you will be able to distinguish all the clicks you get on your site segmented by referral sources, search terms & more.

User Testing Video

A user testing video with voice over talking about the errors / difficulties encountered while browsing your website from a layman's perspective.

Magazine / News Placement

We will posting a magazine / client interview based on the information provided by you.

Q&A Posting

We will posting Q&A's relevant to the your business on high authority sites.

Local Community Setup

We will create a profile on local community networks and share guest posts, videos and other information to attract users.

Social Community Setup

We will create a community profile on important / relevant social networks and share guest posts, videos and other information to attract users.

Review Widget

We will be adding a widget on your website pages which will help you build positive customer reviews.

Pinterest Account Creation

We will create an account on Pinterest for your business also called as Pinterest Business Account.

Pinterest Optimization

We will optimize your Pinterest Business account by filling in all relevant details with your business logo, description about your business and even verifying the profile.

Custom Pinboards

We will create custom Pinboards relevant to your industry on your Pinterest Business profile.

Pin Images

We will pin images (or even video) relevant to your business on the custom created Pinboards.
98% of the clicks on Google search pages go to results on page 1.
The remaining 2% go to pages 2 or later.

So if you are not on page 1 for your most valuable keywords, your website will fail.
CONVERSION RATE OPTIMIZATION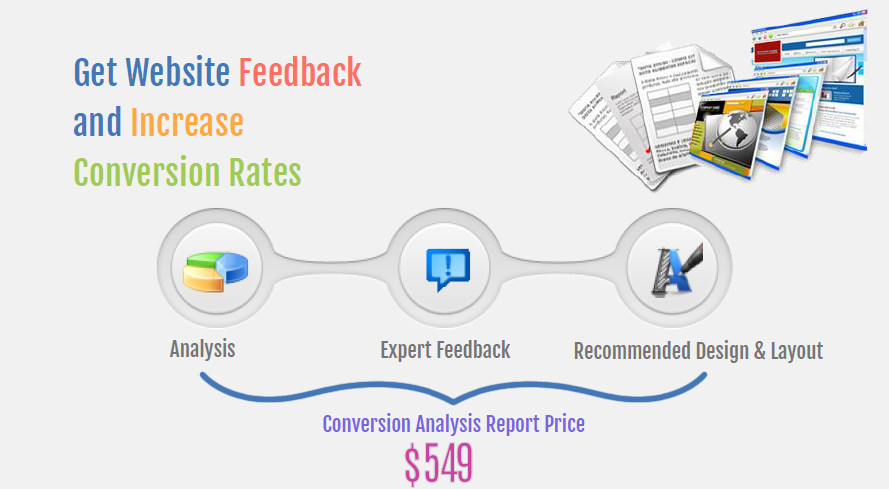 WHY CHOOSE US ?
First Page Ranking on Google, Bing, Yahoo and various Search Engines.Search for our Web-to-Print Services on Google and you are sure to find us on the first page. If we can do this, then we are sure that we can get you on the first page too.
Experience

We have more than 15 years of Experience in Web Development and Digital Marketing as we hire the world's best SEO experts.

Round the Clock support

As we are a global company, our representatives are available 24×5 Monday to Friday to answer all your Support related queries.

Worldwide Recognition

With offices in Mumbai and Houston, we have clients spread across 25+ countries in 6 continents.

100% Analytics Approved

Our SEO gurus use the best practices and ethical strategies to ensure that you have honest and organic search results.

Best Fit for all kinds of Organization

No matter how big or small you are, we have extremely affordable SEO packages that can match your business and budget.
SEARCH ENGINE OPTIMIZATION